Darrel McQuirter
Supervisor District 2
Vice-President
When I began the campaign trail in 2013, my platform was focused primarily on:

  Economic Development


  Safety


  Improved Infrastructure


  Government Stability
I realized Hinds County was in need of better roads and bridges, but I also realized that my priority was to bring businesses to Hinds County which would employ people and increase our County's tax base, while also trying to achieve government stability and public safety.
Not long after I was selected President of the Board of Supervisors, we began to work closely with other state agencies to attract more businesses. Fortunately, Continental Tire was one of the manufacturing companies looking for prime property to locate a new facility. That hard work paid off and now Hinds County will be the home of what could become the largest Continental Tire plant in the country and possibly the world. None of this could have happened without the hard work of the different entities involved and not without the cooperation of the cities, towns, communities and residents of Hinds County. This project will impact all of Hinds County and surrounding counties and will initially generate approximately 2500 jobs!
While we are very proud of the accomplishment of bringing Continental Tire to our area, we could never forget the smaller, newly established businesses, or those which have re-established themselves in Hinds County. Small businesses are the backbone of our economy and the Board of Supervisors works diligently alongside them to help with the growth of our economy as well.
Hinds County - A Very Special Place is our slogan and our goal is to strive for continued success.
---
KEEPING HINDS COUNTY SAFE
Jail Safety & Improvements:

Approved Hinds County to make a grant application to the Mississippi Department of Public Safety under the Juvenile Accountability Incentive Block Grant to secure up to $186,390 in funding for temporary safe haven housing and programs which would house homeless people temporarily.

Approved the extension of the Contractual Service Agreement for Professional Associates to provide evaluation services of the Hope Home for female youths under the Juvenile Accountability Incentive Block Grant

Approved the extension of Contractual Service Agreement for the Mississippi Center for Police and Sheriffs which will provide a temporary safe haven with administrative services and activities for female youths under the Juvenile Accountability Incentive Block Grant.
Infrastructure Improvements: Hinds County & City Improvements

Voted on Inter-local Agreements to assist with the paving of streets in the City of Jackson

Approved a Resolution supporting the City of Jackson and its aviation facilities.

Approved $50,000 funding for the Utica Community Center

Approved $50,000 road improvement funding for City of Bolton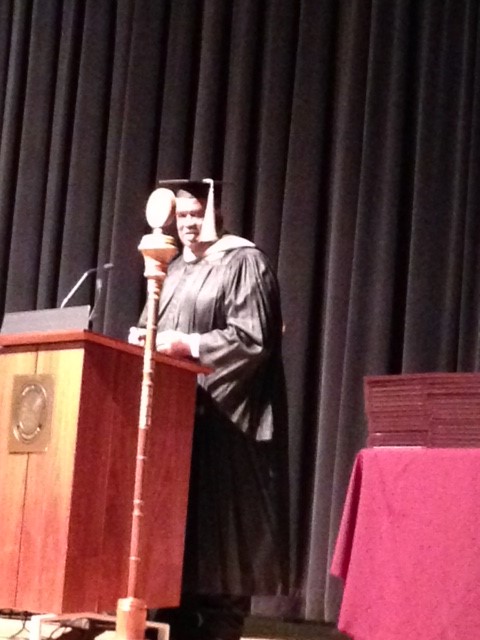 Special guest speaker Hinds Community College 2016 Commencement exercise.
Sharing a meal and conversation with Dr. Clyde Muse, President of Hinds Community College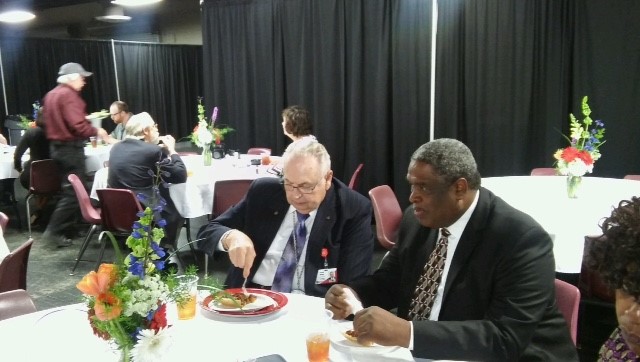 Hinds County Safety Improvements:

Approved purchase of six (6) new fire tankers/pumpers for Rural Fire Reclassification Plan in Bolton, Terry, Utica, Raymond and Brownsville.

Approved the establishment of additional sub fire stations (Bolton, Pocahontas, Brownville, Utica, Edwards and Byram) to assist with a Long Term Fire Rating Reclassification

Resulting in a fire rating reclassification from Class 10 to Class 7, causing a reduction in home insurance up to 35%
Lower Home Insurance Rates in Rural Communities: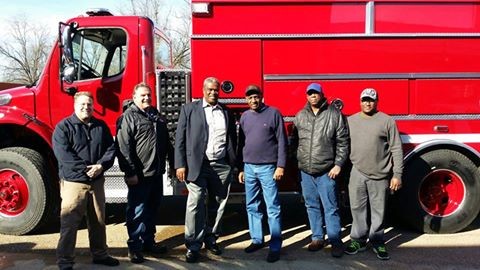 Supervisor McQuirter stands with dedicated Bolton volunteer fireman in front of the newly purchased fire truck.
---
The red area on the map indicates boundaries for District 2.