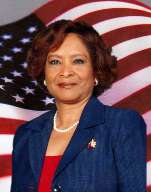 Peggy Hobson Calhoun
Supervisor District 3
---
RECENTLY NAMED PRESIDENT OF THE MISSISSIPPI ASSOCIATION OF SUPERVISORS (MAS)
---
In 1992, Peggy Hobson Calhoun became the first female elected to the Hinds County Board of Supervisors. She did so by defeating the incumbent in a Democratic Run-Off Election and waging a bitter battle resulting in the defeat of her Republican opponent in the General Election by a two vote majority. Because of rumblings and pressure from her opponent and his political supporters, the Election Commission initially refused to certify Supervisor Calhoun. To address this issue, Mrs. Calhoun filed a lawsuit in Circuit Court against the Commission in which the presiding judge ruled…voters go to the polls in good faith efforts to cast their votes and therefore, shall not be disenfranchised due to errors of poll workers. Although the court had ruled, her opponent waged two unsuccessful appeals to the Mississippi State Supreme Court.
When Supervisor Calhoun was seated in April 1992, it was an obvious victory that upset the 'good ole boy network' in Hinds County. Nonetheless, with her election, Supervisor Calhoun not only represented the changing face of Hinds County but also a change in power for the Board of Supervisors. Because of her commitment, she has successfully represented the citizens of District 3 for almost twenty years. As a result of her efforts, she has significantly impacted economic development, public health, safety and the welfare of Hinds County's citizens.
Peggy L. Culberson-Hobson Calhoun was born in Noxapater, Mississippi (raised in Jackson, Mississippi) to the parents of Mr. and Mrs. Quincy Culberson, Sr. She attended Sally Reynolds and Isable Elementary, Jim Hill High School, and graduated from Jackson State University with a Bachelor of Science Degree in Education.
Her success in government is attributed to many accomplishments and to name a few:
Since 2008, worked to greatly increase the number of businesses and industries in all of Hinds County, creating over 1,689 new jobs in addition to 14,710 existing jobs since 1992, with an overall economic impact of $430 million.

Appropriated $6 million to construct JSU Parkway, now named Dr. Robert Smith Parkway.

Responsible for the development of Storm Water Management Program to control the discharge of pollutants that violate water quality standards.

Facilitated the development of the Geographical Information System (GIS) for Hinds County and responsible for successful legislation in receiving funds for the program.

Installed $250,000 in playground equipment at Jayne Ave and VA parks.

Supported locating Burlington Coat Factory to Hinds County by providing business incentives.

Supported Youth and Adult Drug Court for the treatment and rehabilitation for first time offenders.

Spearheaded successful legislature to reduce inmate medical costs by allowing counties to pay for services at Medicaid rates.

Contributed $245,000 for the Hwy 80 Landscaping Project and secured $1,045 million in grants funds.

Allocated over $1.5 million for the purchase of sirens to alert the public of dangerous weather and hazards conditions.

Responsible for the development of the Hinds County Comprehensive Plan that serves as a policy guide for future economic and community development.

Presently, spearheading the Byram Clinton Bolton Corridor/Infrastructure Project to attract retail, residential, and business development for the creation of thousands of jobs for all of Hinds County.

Approved funds for street resurfacing in City of Jackson and new bridge construction for Lavernet Road, Smallwood Drive, Alta Woods Blvd and Woodbine Street.

Responsible for the development of a Communications Tower Ordinance.
As a retiree of Bell South, formally Southern Bell and currently ATT, she was one of two African American to be first hired at 18 years of age. Noted as a trailblazer, one of her job responsibilities included managing the Supplier Relations Program for the inclusion of women, small and minority businesses in the procurement process. Over the years, Supervisor Calhoun has received numerous awards and recognitions for services rendered to promote the development of women, small and minority owned businesses. Additionally, because of her leadership in demonstrating courage and vision as an elected official, she has received many awards and certificates for her services in the community. She is active in the community and is a member of many community organizations and associations. Her spiritual growth is nurtured through her membership at the Mt. Nebo Missionary Baptist Church.
Supervisor Calhoun is married to the Honorable Credell Calhoun, Mississippi State Representative and business owner. She has two children: son, Paul Hobson, a graduate of Mississippi State University, a Detective with the Jackson Police Department; and daughter, Dr. Lisa Hobson Horton, a professor at Prairie View A&M University. She also has two grandchildren: Christian Hobson and Lauren Horton.
Supervisor Calhoun believes that the road to success is a long one with never ending accomplishments; achieving success means that there is always another opportunity waiting around the corner to be seized.
---
The yellow area on the map indicates boundaries for District 3