The United States Navy's newest Littoral Combat Ship (LCS), the USS Jackson, was christened on Saturday, March 22, 2014. Hinds County officials attended ship naming ceremonies for the USS Jackson LCS 6 at the Austal USA Shipyard in Mobile, Ala. at 10 a.m. CDT.
The ship was officially named by the Secretary of the Navy and former Governor of Mississippi, Ray Mabus, on March 24, 2011 honoring our great state capital Jackson, MS and Mississippi's deep ties to the U.S. Navy and the shipbuilding industry. It is the 6th LCS and the 3rd of the Independence variant.
The Secretary of the Navy and former Governor of Mississippi, Ray Mabus, delivered the principal address. Dr. Katherine Holmes Cochran served as the ship's sponsor and broke a bottle of sparkling wine over the ship's bow, a time honored Navy tradition. Dr. Cochran is a native of Jackson, MS and the daughter of United States Senator Thad Cochran (R-Miss.). Dr. Cochran welded her initials onto the keel plate of the USS Jackson on October 18, 2012 s the Keel Authenticator. Senator Cochran's granddaughter, Elizabeth Katherine Cochran of Madison, MS was the Maid of Honor at Saturday's ceremony.
"Every ship we christen is important, but LCS 6, the future USS Jackson, has a special place in my heart," said Mabus. "As a native Mississippian, it is especially meaningful to me that, at this christening, we are able to celebrate the great state of Mississippi, the great city of Jackson, and, above all, the hard work and dedication of countless shipbuilders and others who have worked so diligently to construct this great warship."
The USS Jackson boats a speed capability in excess of 40 knots and can operate in water less than 20 feet deep. The ship will address a critical capabilities gap in the littorals and conduct the Navy's mission to enhance maritime security by deterring hostility, maintaining a forward presence, projecting power and maintaining sea control.
Jackson launched Dec. 14, 2013, following construction at the Austal USA shipyard. These ships are the first vessels procured under the block buy contract awarded in 2010 and represent the true beginning of "serial production" for the class.
Jackson will continue to undergo outfitting and testing at Austal USA. The ship is expected to deliver to the Navy in early 2015 following acceptance trials.
SHIP SPECIFICATIONS:
Length: 419 ft.
Beam: 104 ft.
Draft: 14.4 ft.
Speed: 47 kts (sprint), 50+ kts (top speed)
Endurance 3500 NM @ 18 kts
Hull Type: Stabilized Trimaran Monohull
Displacement: 2176 tons (light), 2784 tons (full)
Dead Weight: 608 tons
Propulsion: Two gas turbine engines, two propulsion diesels, two waterjets
Armament: Bofors 57mm naval gun; Rolling Airframe Missile (RAM) launcher; 4 - .50 caliber machine gun mounts
Combat Management System: Northrup Grumman ICMS
Electronics: Ericsson Sea Giraffe (air / surface surveillance, weapon assignment);
Decoy System: 3 - Super RBOC; 2 - Nulka Decoy launchers
Accommodations: 76
Complement: 26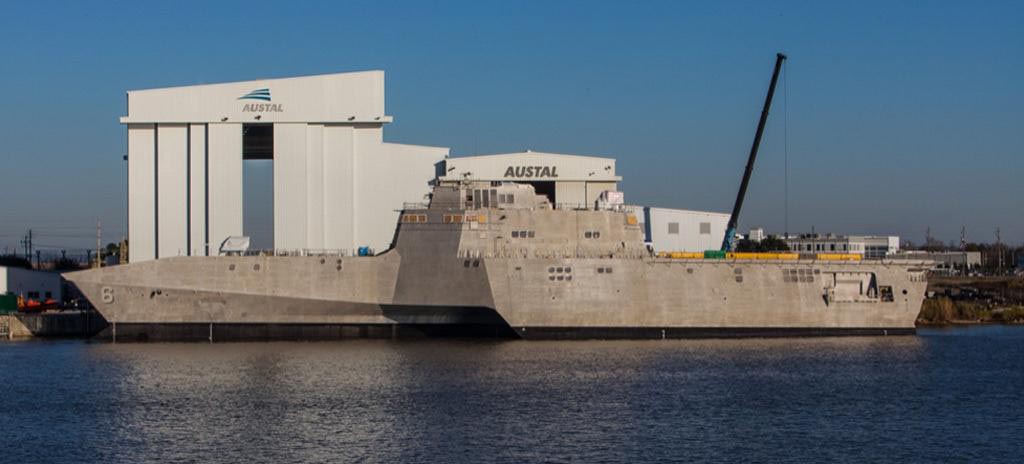 USS Jackson Christening Program
For additional information about this press release, please contact Robert Graham, Hinds County Supervisor District 1, at 601-968-6689 or email: rgraham@co.hinds.ms.us.